Top 10 Influencer Marketing Tools You Need in 2023
Influencer Marketing is one of the leading marketing methods, as they use Influencer Marketing Tools and strategies to bring up attention and promote your brands in a wide range of markets, also influencers are the powerful opinion leaders of social networking, because these leaders can gather up more information and are able to spread their thoughts closely to the Media.
Now, influencer marketing is a mainstream of marketing on the Internet. Because more than 80% of users can take advice or recommendations from influencers to buy anything they want, influencers have more powers to attain the users when compare to reach out other the traditional marketing like as advertising, as per the research 89% of marketers say that ROI from influencer marketing is more better which is comparable to other channels.
So, influencer marketing is very crucial in the foremost of Social media and in this article we have discussed the list of best influencer marketing tools which will grow your brands. These marketing tools can build your brand trust and get more impressive results.
Before we go, let's know about the main advantages of using influencer marketing tools.
Increase your brand awareness and sales reach
Enrich your Content Strategy
Cost Effectiveness
Quality Lead Generation
Save your time
Boost your SEO and ROI
Drive Impressive Results
Build Trust and Credibility
These are the benefits we must get from using the marketing tools and which will be more helpful for growing your business to the next level.
Here below we have listed out the top 10 influencer marketing tools you need in 2023.
UPFLUENCE
Upfluence is an all in one sector software, it will help you to choose the right influencers, run your campaign and evaluate the results. This marketing tool has more options, that you can explore the influencers by relevant keywords, targeted locations, selective language and get metrics from social networking.
The upfluence marketing software shows you the influencers latest posts, and their stats, engagement rate and monthly visitors. Also, this tool offers a convenient way to compare your influencers and you can create a list of influencers that you want to combine with them, contact them, and can check your status that they accepted or not your bid.
Brandwatch
The Brandwatch tool is a form of consumer research platform which helps the marketers to understand their audience, monitoring brands and track the conversations. In this marketing software you can use it for multiple purposes like to know the data analytics, specific keywords, geolocation, hashtags, and phrases from the right influencers in and across the online channels.
Sproutsocial
The sproutsocial platform is playing a major role in social media marketing management, and this tool offers powerful listening social features. In sproutsocial you can track all the metrics in one sector, and analyze the conversations, brand mentions, industry trends etc,. So, that you can identify the correct influencers and brand advocates.
Sproutsocial gives you some specific key features:
Engage with brand advocates by responding the comments
Identify the right influencers from social networks
Track audience reactions to marketing campaigns
Analyze the brand awareness and Consumer sentiment
Listening spike alerts and view the data results on any topic.
CreatorIQ
CreatorIQ is an impressively intelligent marketing tool which helps you get a bunch of potential influencers from a wide range of markets, in this tool the creators can have more identification features. Also, the business users can use its AI-powered system to find recommendations of influencer profiles and use filters to compare the other profiles, measure your data, and analyze performance metrics.
Traackr
Traackr is one of the foremost influencer marketing platforms and it's still one of the best tools for business users. This is an enterprise software that can drive impressive results and smoothly manage your relationship with potential influencers. Traackr allows you to customize the data you store about the influencers, also there is a major option to records all communication members you have with them.
Influencity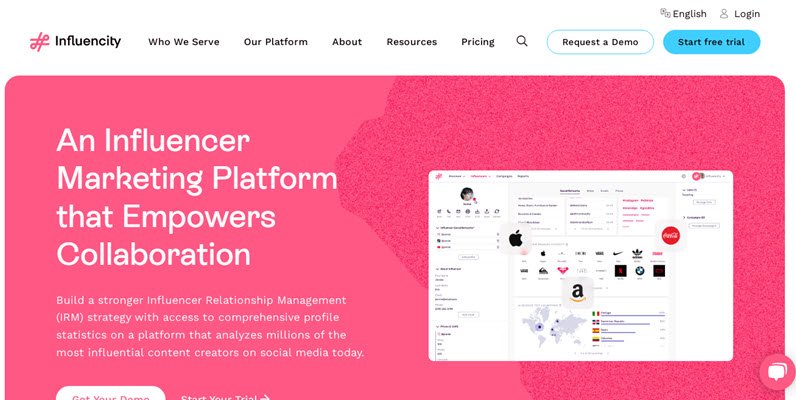 Influencity is one of the best tools for influencer marketing in online marketing and this platform can build a strong influencer relationship management strategy with access to comprehensive profile statistics, and this platform analyzes the millions of most influential content creators on Social Media Today,there are some key features of using Influencity.
Access your key resources without Sign in
User-friendly tool and you customize this platform as per the needs for your whole team.
Backed by an alternative and passionate team of experts
AspireIQ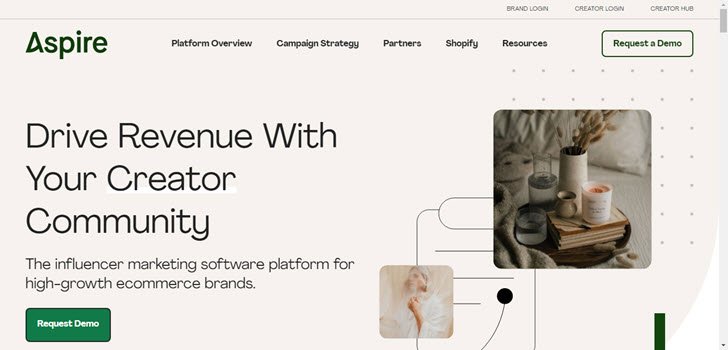 AspireIQ is a leading intelligence marketing platform that helps brands to choose the right influencers, affiliate marketers, and ambassadors. The main motive of this influencer marketing software for high-growth ecommerce brands. AspireIQ offers a database of more than 6 million content creators and influencers can help to find the exact match of it. Also, this tool automatically follow up your workflow,managing your campaigns and monitoring results.
AspireIQ offers both free and paid versions, in free option you can access minimum accessibility and you want to get more options you can pay an extra and its definitely an affordable cost.
Heepsy
Heepsy is one of the top social influencer marketing tools which will help to find the effective influencers on social platforms such as: Instagram, Youtube, Facebook and Twitch. The purpose of Heepsy is to filter the influencers and check profile analytics for all social networks individually. Also, this software can detect fake followers and unnecessary users. Heepsy provides you reliable metrics,  audience demographics, age, gender and geolocation.
NinjaOutreach
Ninjaoutreach is a blogger outreach software that helps to find influencers and manage your influencer marketing campaigns. The Ninja provides you to schedule emails, follow-ups, keep tracking of conversations and manage influencer relations through the platforms. Also, this software offers instant access to 7 Million Twitter influencers, 6 million bloggers, and more than 60 millions of Instagram Influencers.
Neoreach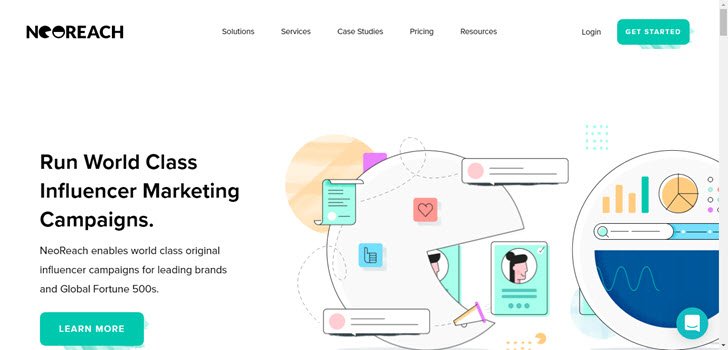 Neoreach is a top influencer marketing tool that large brands use to run influencer marketing campaigns. The software provides you best class in search, data management and track influencers internally with their company. The Neoreach has developed the own measure of ROI and Influencer Media Value and you can accurate estimate media value for your future influencer marketing campaigns.
The above list of top influencer marketing tools are very useful to promote your brands and you can build the relationship with your perspective influencers. If you are aspiring to become an Influencer then Chennai Influencers is the one you have to reach out to. It is an influencer marketing agency that will teach and get your first collaboration.