10 DARING FEMALE BIKERS YOU MUST EVER KNOW
Female bikers are on the pace. Riding a bike not only is a need, but it's also an emotion. "Two wheels one love". Riding a bike is therapy. A lot of women riders start to show the spirit of driving by crushing the stereotype on wheels. Female biking is a new revolution. Biking can also be a women's passion.
Driving is a sense of passion, the best way to destress. Driving a bike gives lots of confidence, attitude, and spirit to explore the world. Many people among us will strive to drive and let us know about a few women riders who made their dreams real even if they were in different professions.
Gul Panag- Actor-Female bikers from Punjab
Gul Panag was the former Miss India who held many titles- producer, actor, aviator, and biker. She is one of the famous female celebrities who are passionate about riding. Her biking journey starts at 17 and she has never looked back since then. Panag took her love to the next level and included her bike even in her wedding. Panag's doli was replaced with the Enfield Bullet. Panag shared her story behind her two-wheeled doli.
Jyoti Mehta- Airforce Officer -Female bikers from Goa
For Group Captain Jyoti Mehta ", Motorcycling is not about speed and stunts, it has taught me patience, acceptance, and equanimity'. Jyoti Mehta is an officer in the Indian airforce and she started riding when she was just a teenager. Riding pushed Mehta to unknown roads and gave her the strength to handle various issues and make herself self-reliant.
However she failed to win in the National Thunderbolt Motorcycle Rally as her bike broke down. She pushed her bike to five to six kilometers of rocky Terrain. She has all the strengths to face her challenges in the journey. She was also a part of the Women Riders World Rally(WRWR) where a baton was carried across six continents. Mehta and her team brought the baton from the Wagah border to Nepal Border. She was the inspiration.
Jesslina Nayyar- Model and Actress -Female bikers from Mumbai
Nayyar brought her passion for riding into her career. She was confident enough to handle both modeling and acting with her Bike as it involves lots of traveling. She reaches the place for the audition or shoots on her bike on time. Her passion for riding started at 18. She felt driven as it helps us to go anywhere we like. Before getting her own Bike she will borrow her friend's bike and ride for hours from Noida to Gurgaon with her friends as pillion. Finally, she started her campaign for Royal Enfield.
Priya Puri – Golf Instructor– Female bikers from UP
Puri always wished to ride a bike as a kid but no one around her was a rider. As a golf coach and a owner of a golf academy she met people from all walks of life during lessons. A very good friend of hers, Dev Amritesh who had lots of adventurous experiences made her go ahead with her passion. She was wondering "how" like other bike ponders. She started her passion with many sessions in Riding School. Within One year of her journey, Puri proceeded with her Challenge to ride in Ladakh and cover the Zanskar Valley. This was just the start Puri went with many expeditions having small breaks.
Anita Krishnan- Tour Captain-Female bikers from Bangalore
A part-time model and full-time Rider, Krishnan has made a career out of her passion. She is a women's expedition tour captain at two-wheeled expeditions, an organization that helps bike lovers to take journeys to different parts of India. She has led more than 15 tours throughout the country and is the president of the India division of the Women's International Motorcycling Association. The plus size has over eight years of experience and the most challenging journey she had taken on her bike was when she had to ride at minus ten degree Celsius through the Himalayas dealing with snow and black ice.
Dr. Neharika Yadav- Dental Surgeon– Female bikers from UP
A super Bike Racer by passion and dental surgeon by profession Dr. Neharika has become a role model online as she beautifully manages her two lives. The Ducati factory racer runs a dental Clinic in Gurgaon. She has been the inspiration for barely 2,12,000 followers on Instagram. In 2005 she met with an accident and she went to the extent that she cannot move her right hand. But still, her passion made her move forward. Racing at the top speed of 275 km/hr. she wishes to inspire as many as women in a male-dominated society.
Aishwarya Pissay- Off-Road Motorcycle Racer-Female bikers from Bangalore
The first Indian motorsport athlete to win a world title, Aishwarya Pissay is a professional off-road motorcycle racer who is also an 11-time national Road racing Rally Champion. Her passion for racing sprung from an unfortunate incident. When she was 17 years old, Pissay failed her board exam and was utterly distraught. She started her competitive career as a circuit racer and later switched to off-road racing. She met with an accident and her pancreas got affected. But still, she did not give up her passion, next year she won the FIM Bajaj world cup in Hungary in the women's Category.
Priyanka Kochchar- Content Creator– Female bikers from Chandigarh
Before she became a full-time bike blogger under the guise of "Bike with Girl". Priyanka Kochhar was an editorial model and anchor producer. Kochchar didn't grow up biking and fell in love with it when she was unsure about her career. She came from a conservative family and faced much criticism for her passion. Kochhar started learning about bikes on YouTube and got bikes from her friends and started posting on Instagram. Now with 1.2 Million followers on Instagram and 3,90,000 followers on YouTube. Kochhar has quite the sensation of riding a new bike every day.
Roshni Misbah- Business Owner– Female bikers from Delhi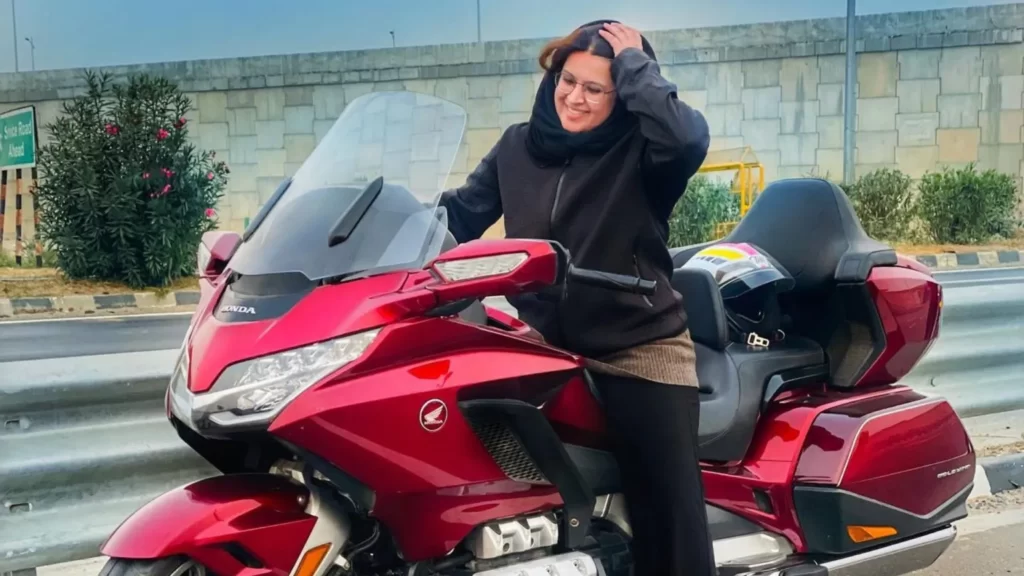 Roshni Misbah became famous in 2017 when she was just a college student pursuing her post-graduate education at Jamia Milia University. People started noticing her wearing a scarf and riding a bike. She received a lot of criticism from society but didn't let her bog down. She was from an Islamic family but still pursued her passion for riding with her scarf. Now she runs her own business that deals with superbikes and is a role model to women who are afraid to live with their dreams because of culture and society.
Pooja Rajput- Naval Officer– Female bikers from Gujarat
When commander pooja was not serving the Indian Navy, she is busy riding across the coasts of India. With over 20 years of riding experience Rajput sees long-distance riding as an "unwinding process". It helped her a lot to connect to the world. Rajput ventured into her passion when women were not encouraged. She would exchange her moped from her cousin's bike without her parent's knowledge, to check her ability to drive. To test herself Rajput drove to Goa, Ooty, Coonoor, Calicut, Moodabidri, Karwar, and back to Goa. From broken roads to lack of connectivity she faced lots of hurdles to gain her strength. Rajput advises aspiring bikers to go with their heart, and everything will fall into place.
Aspiring to be Female riders?
Many women in our society still are fighting within themselves to show up their dreams and passion. Having read some information about a few bold women you would have thought to become a biker.
Here are some of the tips if you want to be a female rider:
Biking requires excellent control of machines and fitness.
It is best to start early.
You require an FMSCI license to participate in bike races.
Begin at an early age
If you want a career in bike racing, starting at an early age is always better. Even under 18 you can get your guardian's approval and start to practice. For instance, Honda identifies young minds and grooms them accordingly.
Enroll for training and License to become a successful female rider
You have to enroll in one of the 16 academics accredited by the Federation of Motorsports Club of India(FMSCI). These academies offer hands-on training on motorcycle races.
California Super Bikes in Chennai and CRA Motorsports in Coimbatore are some of the places that take training. Once you train in any of these academies you can get the FMSCI certificate. Without this certificate, you are not eligible for motorcycle racing.
Get a sponsor as soon as possible
It cannot be hidden that motorcycle racing in India is very expensive. Riders have to pay Rs. 1 Lakh every season to be part of the team. The good news is that if you hold exemplary performance on the tracks, you will have a slew of sponsors to back you in the coming years. At the moment only Honda and TVS are factory teams. Unless you find a budget team, finding sponsors can be tricky.
Begin with small races
Before landing on National championships, it is better to participate in pre-season races to prepare yourself better. These small races will set the stage for the upcoming series. More of these races will increase your confidence level and build your endurance.
Don't forget about physical fitness
You might be aware that like other sports, motor racing also needs fitness. If you want to proceed with bike racing, then you must stick to fitness to ride in rugged racing conditions.
Female Riders Accessories
As we are excitedly setting ourselves on a journey of riding. It is necessary to move on with the right outfit and accessories. There are many essentials for a serious biker. When we see a biker with headgear, Helmets, and Wrist bands, it sets the vibe.
Helmets for Female Riders
Helmets are the most essential need for a rider for his safety. Specifically for female it is designed for their comfort and style. There are different models. Full covered helmets, half-covered helmets, and so on. The fully covered helmet gives full protection to your head. The 3/4th helmet is the next best choice, shielding the side, top, and back of the head. Half helmets cover only the top of the head and should be worn with conjunction like additional protection like goggles.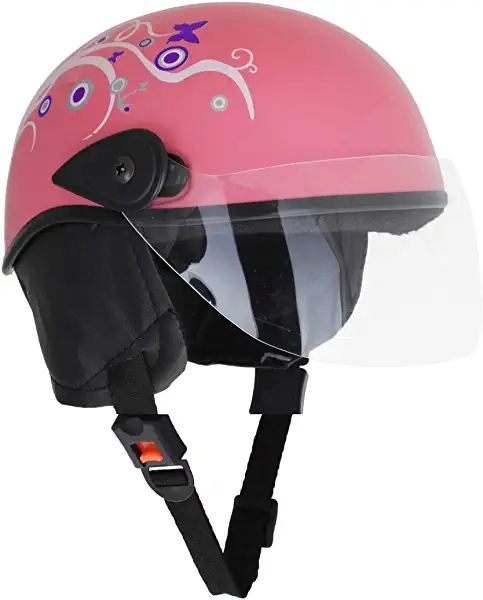 Clothing for the female rider
Every aspect of your riding outfit should be carefully considered. Look for durable riding pants leather, kevlar, or heavy-duty denim. You also want a close-fitting motorcycle jacket. Protect the exposed skin with a bandanna or a neck shield.
Riding suits are another option. The full-body garments resemble the wet suit, but they are designed with bikers in mind with special abrasion-resistant materials, protective padding, and a mesh liner for ventilation. Don't forget to take waterproof wear. A retro-reflective vest is an especially smart choice when riding after dark.
Female Rider's Footwear
Whatever footwear you wear, see to it that it is totally comfortable in all types of land and water areas. The footwear should be heavy and it should not harm your foot.
Female Rider's Gloves
Never ignore the importance of gloves. Your gloves shield your hands from the elements allowing you to maintain a steady grip on your handlebars in any weather. It also protects your hands in case you fall on a hard area.
Eye Protection
If your helmet does not have built eye protection, motorcycle goggles will be needed. It helps in protecting your eyes from Uv radiation
Hearing Protection
Even when wearing a full helmet, riding over a speed of 40mph can cause permanent damage to your hearing. A simple plug of earplugs is enough to muffle engine sounds, and traffic noise without blocking out any important sounds in the environment.
Mini Toolkit
Roadside repairs are always a nuisance. But you will be prepared for unexpected maintenance issues with an onboard tool kit. Your kit should include a headlamp, tire pressure gauge, Co2 inflator, screwdrivers, spare spark plug, wrenches, and mini compressor.
Biking is a super adventure that creates passion for riding. It helps in exploring our dreams and goals. Biking helps us to travel to many places all over the world. A lot of women fight against their families to chase their dreams, without giving up what they really need. Having known about many daring and charming ladies, I hope we all make a decision to work on our passion.