Top 10 Fascinating Silk Saree Boutique in Chennai
"Beauty begins the moment you decide to be yourself". A silk saree is not simply an outfit. It's the power and identity of a person. We have listed the top Silk Saree Boutique in Chennai for you to own that power.
A silk saree is a quintessential Indian garment that has been played in different ways by different fashionistas for a long. The saree carries the reflection of Indian tradition and provides an in-depth view of our culture dating back generations.
A saree always carries the work of many talented artisans and how it has evolved over the years. saree has been a part of Indian history for a long time now and we can see its inferences even in Mahabharata. Sarees go as far back as 5000 years and it has been spotted on sculptures that date back to 100 BC. We can witness people wearing this traditional piece even in old paintings and murals.
Want to know some of the interesting facts about a saree?
A saree can be draped in more than 100 different ways. The draping of the saree varies from region to region in India. Sarees don't limit your creativity; we can do it in several ways.
Sarees support more than 11 million Indian Handloom weavers so it is one of the most significant sectors in the handloom and embroidery industry in India.
sarees can range from 3.5 to 9 Yards since it all depends on the draping style which is differentiated by the region to which it belongs. Kanchipuram which is very near to Chennai is known as the city of sarees as it carries the traditional and the best sarees in the world.
Chennai also referred to as the saree capital houses different sarees some of which are highly unique. In the past Kanchipuram Silk sarees stand out from others due to their intricate weaving patterns and the quality of the silk itself.
Let us see some of the unique and special Silk Saree Boutique in Chennai which offer a wide variety of saree and their collections.
House of Ayana – Top Silk Saree Boutique in Chennai
If you are looking for a one-stop shop for exquisite sarees be it for weddings, special occasions, or even to dress up for an evening, House of Ayana should be your choice. It is a one-stop place for shopping, professional tailoring, and customized service.
House of Ayana has won the "Best Boutique Award for Craftmanship & Innovation – Times Retail Awards 2019"
Their sarees range from Kanchivarams to Banaras, Lightweight silks, and designer wear. What makes House of Ayana more special is outstanding craftsmanship, innovative design, contemporary functionality, and the highest quality materials.
They do also carry designer blouses, exquisite lehengas, and Kurtas for special occasions. Dont forget to pick your jewelry along with your sarees.
Shop Location : House of Ayana, 22/9, Jaganathan Road,Ground Floor, Ponnangipuram, Nungambakkam, Chennai
Business Hours: Mon-Sat: 10.00 AM – 6.00 PM Sunday Closed
Website: https://www.houseofayana.com
Sarangi – Silk Saree Boutique in Chennai
To experience the feel of curated sarees in your hands, one should not miss visiting Sarangi for sarees accessories and fabrics that have contemporary design aesthetics and deep-rooted artisanal values from around the country. When you are shopping for your big day and you are not able to zero down or you are confused about the look and feel in reality, you should visit Sarangi to get dazzled by the choice of sarees and feel the texture in your hands to fall in love with it.
Sarangi carries an extensive collection of Kanchivaram silk sarees, Silk Cotton sarees, Hand printed block tussar silk sarees, cotton sarees, and Gandhigram cotton sarees. They also feature Babyrasa by Rasvihar which carries beautiful artistic jewelry for babies and gift certificates to adorn their special occasions. Sarangi also features beaded jewelry, dupattas, Lehangas, and suits.
Do visit Sarangi if you are looking for Bridal, wedding, festive, evening wear or office wear sarees.
Shop Location: Sarangi, 138, Luz Church Road, Mylapore, Chennai 600004
Business Hours: Open 10 am to 8 pm all days including Sundays
Website: https://www.sarangithestore.com/
Clio silks – Silk Saree Boutique in Chennai
Clio is a house of the finest silk sarees, exquisite design, and breathtaking craftsmanship. They are one of the traditional and authentic saree weavers located in the southern part of India. They house sarees of exceptional designs with the finest quality fabrics to provide customers with the best value for every saree they buy from Clio.
Clio was founded in 2012 and they source locally handcrafted sarees so that the quality of craftsmanship and the local weavers makes it highly appreciable.
They have different varieties of Kanchivaram like pure zari Kanchivaram, half fine zari kanchivaram, brocade kanchivaram, minimalistic kanchivaram silks, contemporary kanchivarams, and brocade kanchivaram.
Apart from this breathtaking wide variety of kanchivaram sarees, they also have lightweight silks, handloom sarees, linen sarees, chiffon sarees, hand-picked collections, cotton sarees, Banaras silks, organza sarees too.
Shop Location: 204, TTK Road, Alwarpet Chennai – 600018
Business Hours: Open all days between 10 a.m. to 10 p.m.Website: https://cliosilks.com/
Prashanti sarees – Silk Saree Boutique in Chennai
Prashanti sarees is an eminent name among saree connoisseurs and has always made the customers glorious with their flamboyant weaves in handloom sarees. They have had a rich heritage in silk and silk cotton sarees for the past 25 years. The unique part about their sarees is that all of their sarees are handwoven.
Their collections reflect the concept of 'Tradition for generations. They take an immense effort in curating every saree and present them to the customer without compromising on the quality and weaving at an affordable price.
Prasanti houses around 100 varieties of sarees and they have more than 5 varieties of Kanchivaram silk sarees. Apart from this, they have the traditional Banaras, designer sarees, heritage looms like Mysore crepe silk, Rajkot Patola, Venkatagiri, Pochampally, Uppada, Gadwal, Sambalpuri, and Narayanpet silk sarees too. They have lots of options in silk cotton, cotton, crepe, casual wear, and party wear sarees too. Bejeweled by Prashanti has a unique collection of Antique, zircon, beaded, Kundan, and Terracota Jewelry. Just visit their website or their outlet to get bedazzled by their collection.
Shop Location: They have two stores in Bengaluru, one in Chennai and Hyderabad.
Business Hours: Open all days from 10 a.m. to 8 p.m.
Website:https://www.prashantisarees.com/
Nalli100 – Top Silk Saree Boutique in Chennai
The saree you wear should make you fall in love with yourselves, all over again. A saree is not a piece of clothing. The color, texture, weave, technique, and craftsmanship speak volumes about the saree. Each and every saree in Nalli speaks volumes about the maker and his love for weaving. A dedicated team of powerful experts and their love of sarees has made Nalli a definite destination for sarees.
At Nalli you can shop by style, weave, or fabric and every category has a lot of collections to choose from. The materials range from Silk, silk cotton, and crepe to cotton,
and the weaves range from Banaras, Kanchipuram to Uppada. The styles range from bridal, and wedding to party and casual wear sarees. Nalli carries a legacy of fine silk sarees since 1928.
Shop Location: 100, N Usman Rd, T. Nagar, Chennai, Tamil Nadu 600017
Business Hours: Open all days between 9.00 a.m. to 9.30 p.m.
Website:https://www.nalli.com/
The S Studio – Top Silk Saree Boutique in Chennai
With delicate elegance and grace if you want to flaunt your silk saree The S studio is a one-stop shop for unique handcrafted designer sarees. They have a variety of sarees that include tussars, Kanchipuram Silks, Soft silks, cutwork sarees, Matka sarees, and chanderi sarees. Ms. Subhashini Srinivasan is the creative mind behind S Studio. She takes utmost care from getting authentic heritage materials to blending colors and designs. Every customer can get a dazzling shopping experience from S Studio.
Many customers throng S Studio for its uniqueness and creativity. They have creatively combined techniques of embroidery, cutwork, and block print, on sarees which makes it more stunning. S Studio also houses ethnic salwar sets in cotton and tussar, blouse materials, readymade blouses in the latest trends, and stylish handbags made from pure leather.
Shop Location: 1st floor, Ashwin apartments, New no 46A, C.P Ramaswamy road (opp to TITAN eye plus) Abhiramapuram, Chennai – 600018
Business Hours: Open Mon-Sat 10.30 a.m. to 7.30 p.m.
Website:https://www.thesstudioonline.com/
Sundari Silks – Top Silk Saree Boutique in Chennai
As the saying goes "Old treasures never go out of style" one should visit Sundari silks, to fall in love with their luxurious kanchivaram silk sarees, Manjal kumkumam sarees, Palum pazhamum collection, and Madhubani sarees. They have a lineage of 80 years in the Silk Sarees industry and the extensive research and wisdom of their ancestors have helped them in bringing vibrance to the boutique.
The shop has a wide variety of Kanchipuram Zari and threadwork sarees, Banarasi sarees, Mysore silk, soft silk, printed silk, Tussar silk, raw silk Gadwal silk, and cotton sarees.
Sundari silks have a separate section for jewelry called 'Athirshtam' which has a beautiful, unique collection of necklaces, earrings, bangles, rings, anklets, kids' jewelry, pendants, and men's bracelets. You can have a complete shopping experience apart from their exquisite collection of sarees in Sundari Silks. To our surprise, they have a beautiful collection of handicrafts and Tanjore paintings too.
Shop Location: 36, North Usman road, Parthasarathi puram, T. Nagar, Chennai, Tamil Nadu 600017.
Business hours: Open all days between 10 a.m. to 9 p.m.
Website: https://www.sundarisilks.com/
Shambavi Boutique – Top Silk Saree Boutique in Chennai
Shambavi boutique has the finest collection of tussar silks, tussar munga, silk cotton, and an exclusive collection of kalamkari sarees. They bring exquisite collections that reflect modern ethos for Indian women. The sarees are individually handpicked by them and are reflected in the uniqueness of every piece. Shambavi has a different set of silk sarees like the Chanderi, Geecha, Cutwork, Applique, and Patchwork sarees apart from the regular collection of Kanchivaram and silk cotton sarees.
Shambavi also has a good collection of Salwars, Kurtis, jewelry, and blouses.
Shop Location: Ram Tejas, No:18/47,2nd street, Aziz Nagar, Kodambakkam
Chennai – 600 024
Business Hours: open all days between 10 a.m. – 8 p.m.
Website: https://www.facebook.com/shambaviboutiques/
Tulsi Silks – Top Silk Saree Boutique in Chennai
If you are looking for a mix of trend and tradition for your special day or special occasions then Tulsi silk is a go-to place. Tulsi silks have a definite upper hand when it comes to the six yards of traditional silk sarees. They have a beautiful collection of Kanchivaram, soft silk, tussar, Ikat, Patola, Banaras, Silk cotton, Raw silk, Chaniya silk, Kani silk, etc.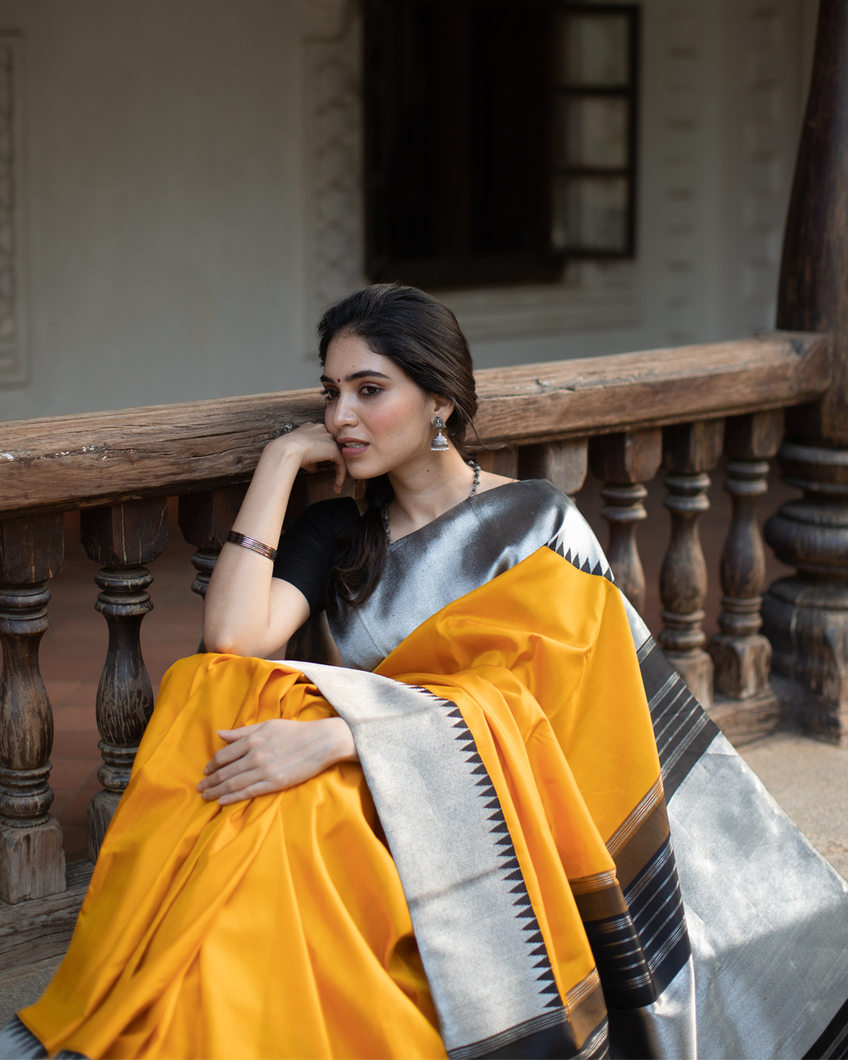 They have a separate section featured for vintage weavers collection, bridal Kancivaram, kalamkari collection, Hand printed silks, Gadwal, Paithani, Baluchari, and Muslin.
Shop Location: 68, Luz Church Rd, Mylapore, Chennai, Tamil Nadu 600004
Business Hours: Mon-Sat 9.30 a.m. – 7.30 p.m
Website:https://tulsisilks.co.in/
Paalam Silks – Top Silk Saree Boutique in Chennai
Palam silks have a way beyond introducing many firsts in the city of Chennai for Silk sarees. Palam silks were started by Jayashree Ravi with a vision to make silk popular with younger women. Palam silks hosted the first ever fashion show for silk sarees in the years 2009 and 2010 with the sole vision of promoting the values of the silk saree tradition to the younger generation. Palam silk has a wonderful collection of Kanchivaram, Silk cotton, casual, Linen silk, and soft silk collections.
Palam has the pride in introducing limited edition Kanchivaram sarees, by introducing fifty designer luxury silk sarees which were a blend of contemporary and traditional artistic excellence. Palam was premiered at a Vogue wedding show in Delhi. They feature sarees which were a fusion of both gold and silver zari.
Shop Location: They have 4 branches in Chennai, two in Mylapore, and one each at T. Nagar and Anna Nagar.
Business Hours: Open all days between 10 a.m. – 8 p.m.
Website:https://www.palamsilk.com/
Every saree a person possesses carries a story and a lot of memory. It is an embodiment of love and beauty apart from memories. The five yards of exquisite fabric hold an indescribable emotion of artistry, heirloom, care, and wealth that cannot be measured. Sarees have a spiritual significance for Indian women. It is believed that the color of the saree represents beliefs. Indian goddesses are portrayed wearing silk sarees, yellow is believed to be auspicious, red symbolizes courage, and white is for purity.
The bustling colors of sarees and their beauty can be truly witnessed during the Navratri season in India which symbolizes the worship of Maa Durga adorned with sarees of different colors each day. So why wait go buy one with all the emotions for you or your special person that is going to carry a story to share for generations?
Tell us if you liked our Top Silk Saree Boutique in Chennai , suggest your favorite boutique.