Best 15 Saree Accessories you must buy
Sarees are a woman's best friend. Especially if you're a fashionista. They are fun, classy, and most importantly stylish. The Saree accessories that can make your saree look even more beautiful are called Saree Accessories. These saree accessories help you in looking gorgeous in every part of your day-to-day life
HomeStarp Cotton Quilted Saree Cover with 2 Premium Quality Zippers

The HomeStrap Cotton Quilted Saree Cover is the perfect closet organizer to keep your sarees organized and protect them from dust, moths, and moisture. These Cotton Quilted Saree Cover with 2 Premium Quality Zippers is made from high-quality cotton fabric which is soft against your skin, breathable, durable, and easy to carry around. The transparent window allows you to see what's inside without opening it up. It can be used for storing different types of sarees such as cotton, silk, and other expensive fabrics in the most organized way.
SOLSTICE SAREE COVERS/BAGS
The size of the hanging saree cover is so chosen that any type of sarees or ladies' dress (salwar suits) can be fit inside properly. They are made of fine-quality cotton fabric, which makes them eco-friendly, reusable, and easy to wash. It comes in different colors and can be used with any type of hanger available in the market. These saree covers are great decor for your wardrobe and a perfect gifted option for your loved one.
Traditional Embroidery Cloth Saree Waist Belt
For those who have no idea what a waist belt is, it is an ornament worn around the waist to style your outfit. The waist belt is also known as Kamar bandh in Hindi, Vaddanam in Telugu, Oddiyanam in Tamil, and several other names in the respective regions. While wearing a saree, they not only hold your perfectly pleated pallu from getting crumbled but also bring your outfit a totally unique look. The elegance of this Traditional embroidery cloth saree waist belt is the multicolored stones and the cream-colored pearls embedded in it, which creates a perfectly unique blend. Available in different colors these waistbelts can pair with not only traditional wear but also Indo-western outfits.
Traditional Embroidery Cloth Saree Waist Belt – Top Saree Accessories
Magnetic Safety saree pin
Looking for a beautiful safety pin that can go well with all your saree, lehenga, dupatta, etc? Try this beautiful designer set of colorful safety saree pin brooch which goes well with all your outfit. Their high-quality heavy metal pins and clip-on mechanism make it easy to hold your saree in place without getting spoiled or with a hole in the saree. Also, these premium quality saree pins come in gold & silver colors with metallic and acrylic finish. An excellent accessory and a perfect gifting option for women.
Single Saree Cover with Transparent Top 80 GSM Fabric
The Single Saree Cover comes with a carrying handle that makes it convenient when traveling on plane trips or during long trips where you need to carry lots of baggage along with you. Made of high-quality VIRGIN non-woven fabric and comes with a zip closure and a transparent top making it easy to access your saree. The Single Saree Cover is a great piece for keeping all your precious clothes safe from dust, dirt, and other stains. The Homestrap Single Saree Cover comes in beige color to match your interiors. It also has an inner polyester lining which gives it more strength and durability. It can store up to 10 to 12 sarees per cover.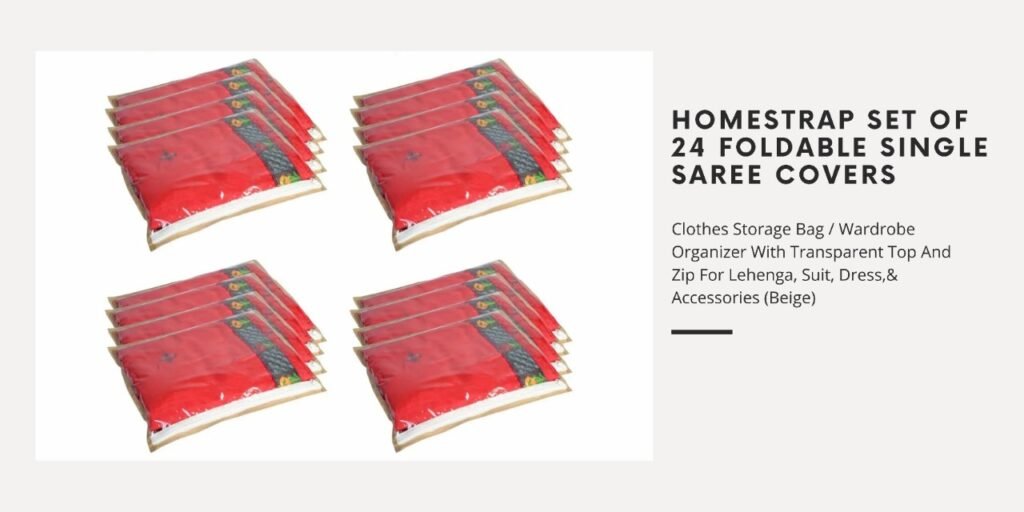 Vama Fashions Rose Gold X Safety Saree Pin
From using the safety pin to holding the saree in place, to cover them not to be seen, the struggle is real. These Saree safety pins for women match the latest trend and are very useful for Dupattas,chunri as well as heavy or light sarees, which would draw appreciation, as well as compliments. Be it styling with your saree or lehenga, these safety pin is perfect for every occasion. Also, this beautiful rose gold, stone-embedded safety saree pin brooch from Vama fashion is a perfect match for every outfit.
The Duchess Green Golden Beaded Designer Tasseled Cloth Waist Sari Belt
Beautifully designed and woven with golden beads, and sequins, this duchess green waist saree belt has golden tasseled trim on either side of it. This cloth-made waist belt gives you comfy in terms of texture and movement whilst enhancing your silhouette. This beautiful piece of clothing that you can wear to any occasion. It comes in 71cm long without Dori, and 140 cm long with Dori. The belt width is 4 cm wide and the tassels are size 12x12x6 cm in length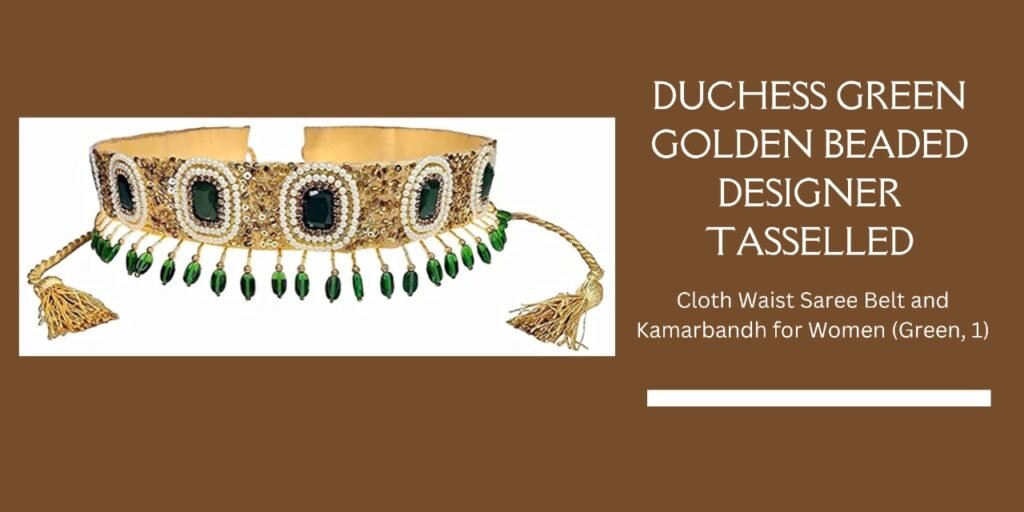 SATYAM KRAFT Women's Adjustable Metal Ring Chain belt
Want some contemporary yet chic style waist belt? Satyam kraft women's adjustable golden metal ring chain belt for saree comes first to us! They complement your designer-modern wear saree in the most elegant way. Easy to fit and wear gives a perfect look to your waistline. Being known for its adjustable saree-dress belt, it is ideal for wearing with an oversized shirt and sundress. These metallic waist belts are also best suited for parties, traditional attires, and special events.
SATYAM KRAFT 1 Pcs Women's Skinny Stretch Leaf Metal
Here comes one of the favorite skinny stretchable leaf metal belts for styling the saree like a pro! This quirky metallic golden belt around your waist not only secures your saree in place and also creates a whole new fashion statement. These metal belts are a must addition to your saree accessories as they can pair well with your indo-western, lehengas, and western gowns.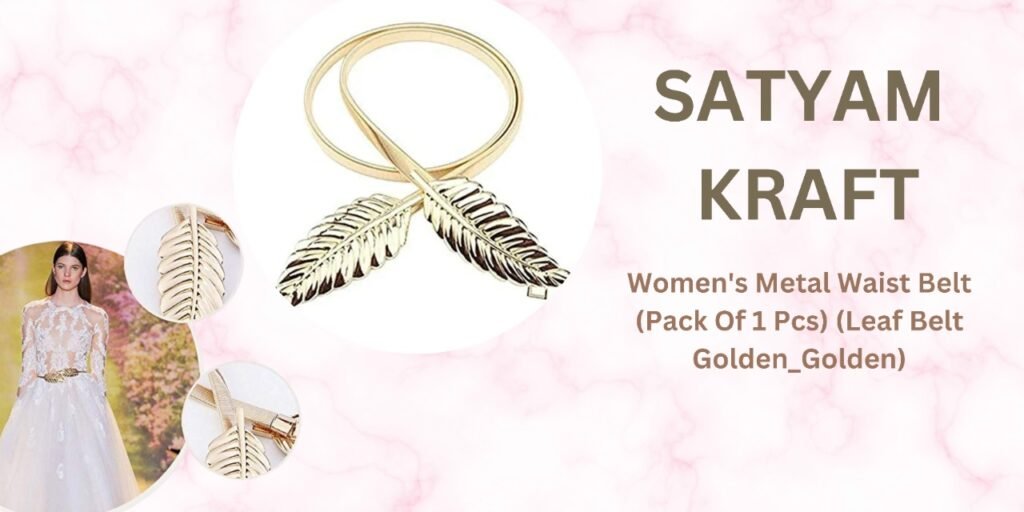 JN HANDICRAFT White Copper Multilayer Waist Belt/Belly Chain
Whatever the occasion, people have always tried to keep up their fashion spirit high. At JN Handicraft, it is not about ornaments, but a treasure that will be cherished forever. As we know waist belt comes in different material and style, one such kind is their white copper multilayer waist belt/belly chain which comes with a safety pin. It is easy to keep your pleats in place and also flaunt your beautifully stone-embedded safety pin as they come in pairs. Made from High-quality hand-picked kundan stones & pearls, complement all your ethnic and trendy outfits.
Pearl Brooch Safety Pins for Women Girls, Anti-Exposure Neckline Safety
Jewellery Accessory Sweater Shawl Clips Gifts
These excellent faux pearl brooches feature a unique and lovely design and are constructed of brilliant imitation pearls. In addition to their beautiful design, it is ideal for everyday use as safety pins, shawl clips, headscarf pins, etc. The brooch is made of high-quality imitation pearls and alloy that is long-lasting, and resistant to wear, and the Classic Pearl Element is Simple and fashionable which gives the entire ensemble a delicate feeling of touch.
Finesse Women's Cotton Saree Accessories
Making a statement in this Regular Fit Camisole. This Camisole is made of cotton, has a solid
design, and snap closure, is sleeveless, and is unquestionably essential for your wardrobe.
With its unique buttons, you can quickly change the neckline of your low-cut tops or completely
remove the Cami Secret. So you can quickly have the ideal attire for every circumstance.
Creative Fashion Needs Idea Change any typical V-neck, scoop-neck, or see-through top. Soft Lace Border To Transform Your Appearance. Without the bulky inside, achieve a layered look.
Fabric: Breathable, soft natural material made of 95% cotton and 5% lycra; Lace Finish With 3 Ring Snap Adjustable Button
SOLSTICE BRAND Cotton Bags Saree Accessories

The performance and appearance of the covers are improved by the mesh at the bottom and the
the fine-quality natural Cotton fabric used for durability. The coverings can be used to store a variety of fabrics, not just sarees as seen in the photo. Such items are necessary for your wardrobe to maintain uniformity when arranging various sarees, dresses, shirts, and bottoms. SOLSTICE brings you cotton saree/lehenga covers for all kinds of sarees, Ladies' Lehengas, and outfits. These covers are made of durable cotton fabric to keep your outfits safe and clean.
there is a window given to see what is inside.
SOLSTICE focuses on eco-friendly materials to produce daily-use saree accessories. Cotton fiber is highly reliable to produce such things.
Saree Pin / Hijab Pin -Combo of 12 pcs for women
The saree and the hijab is a symbol of beauty and respect within one's culture. These excellent pins, which come in a variety of colors are Cyrstal-finished and are high-quality pins that will go well with any sarees and hijab. The plating is hypoallergenic, Crystal finished, high quality, and secure in any setting.

Surbhi Jute Saree Clutch -Mobile Pouch Waist Clip Ladies Purse for Women's
Crafted with superior-quality jute material, this pouch has a fine finish and texture. This stylishly designed ethnic jute mobile pouch from Surbhi provides functionality with style. It comes with a magnetic button as a closure which helps you to carry your belongings like money, phone, keys, etc. It pairs well with your saree as a waist clip to hang this pouch in your saree to carry anywhere at home, at parties, and at ceremonies. Also, it is considered a good gifting option for different occasions.